Giant Wenger Swiss Army Knife 16999 Brand New In Box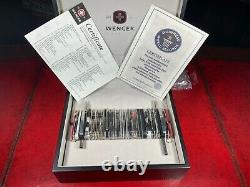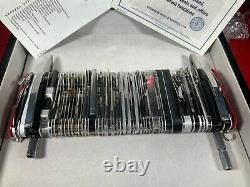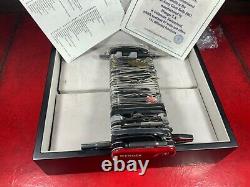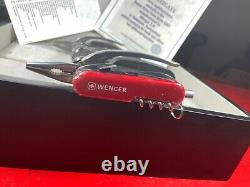 You are looking to a very rare impossible to find Giant Wenger 16999 Swiss Army Knife Giant Size. Comes in the original box with papers.
Everything is working as it should be, New batteries installed, flash light and pointer are perfectly working. Very light marks on the wooden box. Very limited production for this specific model, I believe only 100 pieces were produced in year 2000. This one is Brand New, Never Used!
Featured by major media outlets. The Wenger Giant Knife includes 87 implements for almost any situation. 2.5-inch 60% serrated locking blade. Adjustable pliers with wire crimper and cutter.
2.5-inch blade for Official World Scout Knife. Spring-loaded, locking needle-nose pliers with wire cutter.
Phillips head screwdriver bit 0 Phillips head screwdriver bit 1. Phillips head screwdriver bit 2.
Flathead screwdriver bit 0.5mm x 3.5mm. Flathead screwdriver bit 0.6mm x 4.0mm. Flathead screwdriver bit 1.0mm x 6.5mm. Double-cut wood saw with ruler.
Screwdriver for slotted and Phillips head screws. Removable tool for adjusting spokes.
10mm Hexagonal key for nuts. Removable 4mm curved Allen wrench with Phillips head screwdriver. 2.4-inch springless scissors with serrated self-sharpening design.
1..65-inch clip point utility blade. 2.4-inch round tip blade. Fine metal file with a precision screwdriver. Cupped cigar cutter with double honed edges. Watch case back opening tool.
Phillips head screwdriver 1.5mm. Fine fork for watch spring bars. Removable tool holder with an expandable receptacle. Special self-centering screwdriver for gunsights. Sping-loaded, locking flat nose needle-nose pliers.
Phillips head screwdriver bit 0. Phillips head screwdriver bit 1. A lot of superlatives can be used to describe the Wenger Giant.
After all, which knife company can even think of creating something like this? But Wenger, known to be the more innovative between the two Swiss Army Knife manufacturers (the other being Victorinox), created this unique Swiss Knife Army that is still considered a marvel of modern Engineering. The Wenger Giant is the largest Swiss Army Knife ever made. It is the only SAK that has the most tools, as it has each and every tool that Wenger has ever produced for their Swiss Army Knives. The Giant comprises of 87 tools that can perform 141 different functions. Talking of superlatives, the Wenger Giant did feature in the Guinness World Records for being the largest multi-tool. Specifically, the Guinness Book Of World Records awarded it the distinction of the most multifunctional penknife. The Giant was also a finalist for the Outstanding Technology of the Year Award for 2006, from the International Academy of Sciences. This super-expensive SAK usually retails for about USD 1,400. However, the price keeps fluctuating depending on availability. Tools and Specifications of the Wenger Giant. The Giant is a member of the 85mm Wenger Swiss Army Knives. Yes, this is not the largest series of SAKs that Wenger used to make. Their largest SAK series is the 130mm. But Wenger put in so many layers in the Giant that its thickness is greater than its length. In all, the Giant has 49 layers. Following are the dimensions and weight of the Wenger Giant. Yes, this knife is more than 9 inches thick. Funny how Guinness Book calls it a penknife! This monster certainly is not something you can call a pocket knife or a holstered knife. Officially, the model is referred to as the Wenger 16999, but popularly (especially among collectors), the model is known as the Wenger Giant.
It comes only in standard red-colored scales. As Wenger has included each and every tool they have designed over a century-long history of making Swiss Army Knives, the Giant ended up having 14 blades, three types of pliers, countless screwdrivers, saws, wrenches and a lot of other tools. There have been tool variations in the Wenger Giant over the years since its first inception. The Wenger Giant along with the certificate from Guinness Book! This is because Wenger used to produce a newer model of the Giant each year to include all the newer implements that they have designed for their SAKs for that specific year.
Ultimately, the Wenger ended up having 87 tools in all, which can perform 141 distinct functions. As Wenger does not produce this model anymore, there is no official list of all the tools published anywhere. SAKWiki maintains a list of all the tools available in the Wenger Giant.
There might also be other unofficial lists available elsewhere. So for redundancy purposes, there is no point in putting the full list here. If you are interested, do visit the SAKWiki page for the Wenger Giant. If you are interested in how and who thought of creating this unusual and extraordinary SAK, keep reading. Why was the Wenger Giant made? Have you ever regretted that your Swiss ArmyKnife doesnt have a specific tool that you would love to have? But the other SAK which has that tool is missing another tool that your current SAK has. Well, a SAK is designed to be a functional multi-tool and hence there has to be a limit to the number of the tools a specific model can have.
But what if we can have all the tools in one single model? This is exactly the idea that Michel Champion at Wenger came up with.
Michel Champion is known as the father of the Wenger Giant. He used to work in the assembly department of Wengers Delemont factory in Switzerland. After he saw some big knives in the Guinness Book, he thought of creating one by assembling all the tools that Wenger makes in a single model.
He presented the idea of creating this big SAK to Wenger management. The idea was accepted by Wenger management. The aim was not to win a world record certificate but to ensure that Wenger was capable of achieving such a feat. We wanted to show what a Swiss Army knife could look like with all the tools in one product to show this handy toolbox in its most extreme form. Peter Hug (Wengers chief executive).
It took ten weeks of development for Wenger to come up with the first prototype of the Giant. Champion engineered the manufacturing process and created the first Wenger Giant, in the year 2000. How was the Wenger Giant made? The Wenger Giant is assembled by hand.
The assembling and riveting process are manual, as Michel Champion did mention that it is impossible for a machine to assemble a knife like the Giant. Initially, he alone was responsible for putting the knife together as he knew exactly where each tool should go. In the beginning he could assemble two units a day. As he gained experience, he was capable of assembling eight such units in a day..
Champion said that only the assembling process took about one hour. Champion later trained his colleague Mr. Leuenberger to assemble the Giant. The two of them were the only technicians in Wenger trained to assemble this monster SAK. Wenger assembled about 25 units of the Giant in 2000. These were used for exhibitions in various trade shows.
Please feel free to ask any questions. The item "Giant Wenger Swiss Army Knife 16999 Brand New In Box" is in sale since Tuesday, December 7, 2021. This item is in the category "Collectibles\Knives, Swords & Blades\Collectible Folding Knives\Modern Folding Knives\Factory Manufactured".
The seller is "fidohany" and is located in Houston, Texas. This item can be shipped to United States.
Model: Giant Wenger 16999
Country/Region of Manufacture: Switzerland
Blade Material: Stainless Steel
Product Line: Swiss Army
Blade Edge: Plain
Dexterity: Ambidextrous
Original/Reproduction: Original
Type: Tactical
Color: Red
Opening Mechanism: Manual
Authenticity: Original
Handle Material: ABS / Cellidor
Brand: Swiss Army

---