Victorinox Lumberjack VF 2023 Limited Edition Silver Alox Swiss Army Knife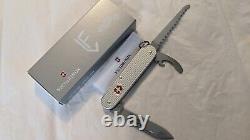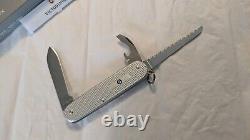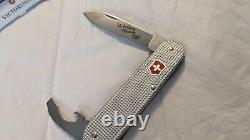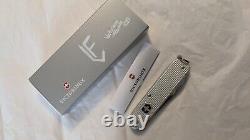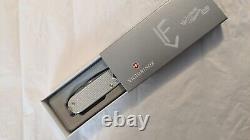 Victorinox Freunde 2023 Silver Alox Lumberjack. The Victorinox Lumberjack is an 84mm model.
The simple two-layer design makes it popular with those looking for a minimalist package. The Victorinox Alox Lumberjack became very popular from 2008. It is not a regular production model, but is manufactured from time to time on request for specific dealers or distributors. The Alox Lumberjack has been made in a wide variety of different colored Alox scales, but never includes the toothpick or tweezers. The US dealer Swiss Bianco has been the primary dealer offering this model. It is produced in very small quantities compared to regular Victorinox models. Victorinox Friends VF Group Knife 8.
Year of release: 2023 Model: Lumberjack aka Walker Alox, 84mm Color: Silver Tools: Blade, combo tool, saw, key ring Edition size: 350 pieces Blade etching: Victorinox Freunde 2023 Special Features: VF logo on the back of the back scale Keyring: yes Box: Standard silver box gift box.

---