Victorinox Outrider Damast 2017 Limited Edition Swiss Army Knife NIB Damascus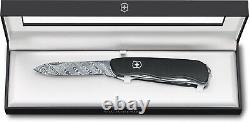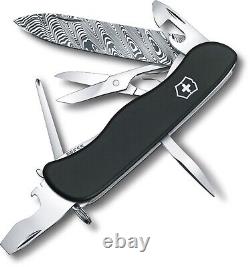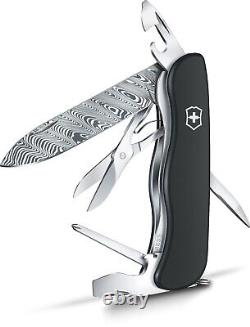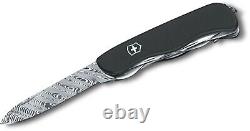 Outrider Damast Limited Edition 2017. The centerpiece of the Outrider Damast Limited Edition 2017 is its elegant, 111 mm locking blade, made of corrosion and wear-resistant Damasteel. Comprised of 115 layers of finely honed steel produces the strong Odin's Eye Damasteel pattern that will captivate collectors and users alike.
The steel blade is complemented with custom Epicurean scales, with sequential numbering laser engraved on the back of each scale and a beautifully inlaid Cross & Shield on the front. Manufactured using an eco-friendly wood fiber composite, these handles are not only exceptionally functional and robust but also offer a sophisticated look. To keep the silhouette of this exclusive knife streamlined, the model has been designed without a saw or corkscrew.
Limited to 5,000 pieces worldwide, and just 360 in North America, it's safe to say that this knife won't be around for long. Locking 111 mm Damasteel Blade. Long and Fine Phillips Screwdriver. 360 pieces produced for North America.

---