Victorinox Pioneer X Damast Swiss Army Knife Limited Edition 2016 NIB Damascus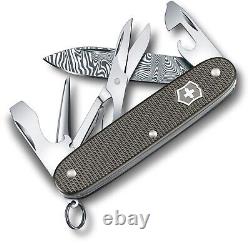 You don't need to be a pocketknife connoisseur to appreciate the Pioneer X Damascus Limited Edition. You do, however, need to be able to appreciate the sleek styling of the graphite Alox scales, the beauty of the large Damascus blade, and the refined sophistication of the Pioneer X, in general. Luckily, we don't anticipate you'll have a problem appreciating any of that. If you're going to blaze a new trail, you're going to want to keep the right tools with you. And the Pioneer knife belongs in your pocket.
Inspired by the classic Soldier's knife, this sleek multi-tool packs all of its functions between two durable Alox scales. It feels good in your hand, and it feels even better when, once again, you get the job done. The X model in the ever-popular Pioneer series is now equipped with scissors.
This addition is in response to consumer demand, and we must admit, it's a very good improvement. With scissors, the Pioneer X weighs just 3.35 ounces, so you're able to pack additional functionality, without packing on the weight. Despite the change in functionality, the Pioneer X signature styling and sleek Alox handles remain the same. Model Name: Pioneer X Damascus 2016.

---