Victorinox Swiss Army Knife Red Multitool 33 Functions Scissor Screwdriver 91 MM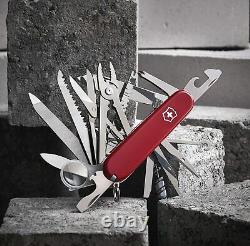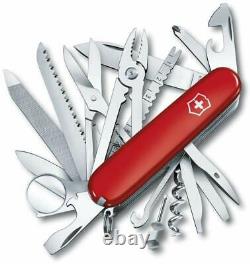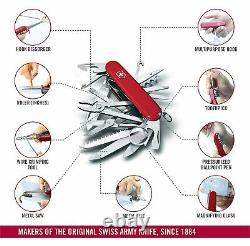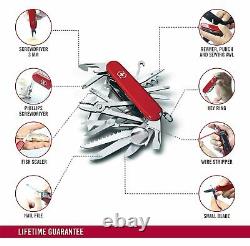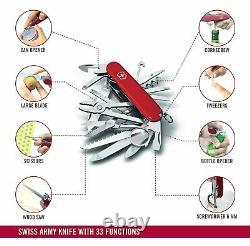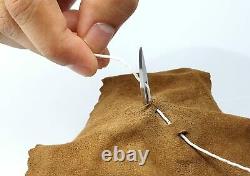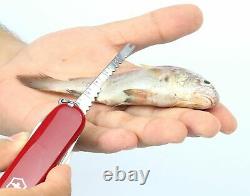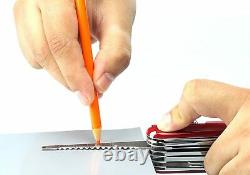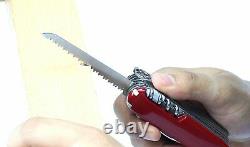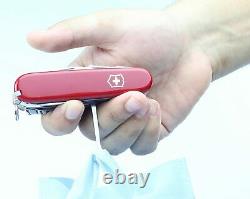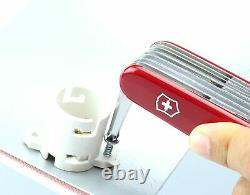 STRENGTH PACKAGED INTO A SMALL SIZE: The Makers of the Original Swiss Army knife present a Swiss made pocket knife with 33 functions. The ultimate companion to strip wire, scale fish or saw metal for your indoor and outdoor life. Scale material : ABS / Cellidor. FUNCTIONS: 33 tools include large blade, small blade, corkscrew, mini screwdriver, reamer, punch and sewing awl, can opener, screwdriver 3 mm, bottle opener, screwdriver 6 mm, wire stripper, scissors, pliers, wire cutter, wire crimping tool, fish scaler, hook disgorger, ruler (cm), ruler (inches), wood saw, nail file, nail cleaner, metal saw, metal file, magnifying glass, Phillips screwdriver 1/2, screwdriver 2.5 mm, chisel 4 mm, multipurpose, hook, toothpick, tweezers, pressurized ballpoint pen, stainless steel pin and a key ring. TRIP OR TRICK: It's the ultimate pocket knife, packing no less than 33 functions and countless possibilities.
Wherever you are and whatever happens, if it can be fixed, it can be fixed with the SwissChamp. STRONG AND SUSTAINABLE: All pocketknife components (excluding rivets) are made from martensitic stainless steel. This ensures excellent flexibility, edge retention and resistance to rust. The scales are made of high-gloss Cellidor. It is an organic, thermoplastic cellulose, only partially dependent on fossil fuels.
Product Dimensions - 9.1 x 2.79 x 3.3 cm. Medium Pocket Knife with 33 Functions When you hear the words Swiss Army Knife, chances are you think of the legendary Officer's knife. And that legend continues with the Swiss Champ pocket knife.
It's the ultimate pocket knife, packing no less than 33 functions and countless possibilities. Wherever you are and whatever happens, if it can be fixed, it can be fixed with the Swiss Champ.
Swiss Army Knives from Victorinox Compact, agile and ready to face any adventure head-on. Our range of Swiss Army Knives has been established since 1884 and continues to expand rapidly. All our pocket knives are a survival tool at their heart: multitaskers that deliver in any situation. At their most basic, they are a blade: a precision cutting tool.
At their most evolved, they have pioneered space travel and restarted engines. Can it be used at home? Yes, if you are the one who believes in a minimalistic lifestyle, screw in a bolt, cut through a parcel, pull out a thorn or sharpen a pencil, role-play an electrician or a plumber, it shall never let you down. Can it serve as a travel companion? Yes, pocket it and go on that trip you were craving. Choose from robust full-tang blades for the ultimate strength and control to get the live in the woods confidence or versatile pocket knives with superior functionality and comfortable handles. Wilderness wanderers and resourceful ramblers alike will find their ideal partner for outdoor exploits.
Multiple questions and the answer will always be in the affirmative. That's how functional and useful these knives are. It's a champion in DO-IT-YOURSELF, confidence building, functionality and even sustainability. The knives are created using environment-friendly light materials and are light on the pocket. The robust inbuilt lasts a lifetime.
These multipurpose tool boasts of many sharp and strong implements to help you in a wide array of situations. The different attachments on this pocketknife are made of stainless steel.
Our stainless steel is resistant to rust. To re-sharpen your knife, use a whetstone at an angle of 15°- 20°.
If sharpening on a grinding wheel, always cool with plenty of water. When the blades stick together, open and close the blades in warm water several times, on drying apply a small drop of oil between the blade, tool shank and the spring. Never put Swiss army knives in the dishwasher! Since decades, issues concerning environment protection and Sustainability have been given high priority.
Is it because of our Swiss roots? Or is it simply because of our deep connection with nature? The fact is - we have always felt an obligation to treat our resources and our colleagues and customers responsibly. Our factory produces 45000 Swiss Army Knives and 90,000 Kitchen & Professional knives every day, to meet the ever increasing demand of our customers.
Our company founder Karl Elsener starts a cutlery workshop in a pursuit for social upliftment of his fellow citizens. 1897 he develops the "Original Swiss Army Knife". His mother Victoria actively supports him in his endeavours. He later names the company VICTORINOX. Combining his Mother's name with INOX meaning stainless steel.
Never leave the planet without one. Says Astronaut Chris Hadfield, who has a record of 4000 hours in space. Created to serve the Swiss Army in 1897, today armed forces of more than 20 different nations carry one.
The small red knife has been present in space missions carried out by NASA since the late 1970s. As customer needs have changed over the years, the legendary Swiss Army Knife has also evolved. Quality, Functionality, Innovation and Iconic design have the highest priority, and this also applies to our other product categories: Watches, Travel Gear and Fragrances. This item is in the category "Collectibles\Knives, Swords & Blades\Collectible Folding Knives\Modern Folding Knives\Factory Manufactured". The seller is "catamont" and is located in this country: IN. This item can be shipped worldwide.
Model: Scissor Screwdriver
Country/Region of Manufacture: Switzerland
Blade Type: Multifunction
Product Line: Swiss Champ
Type: Tactical
Tools: Large & Small Blade, Reamer, Punch and sewing awl, Can Opener, Pliers, Hook disgorger, Ruler (Cms), Metal saw, Phillips screwdriver, Pressurized ballpoint pen, Bottle Opener, Corkscrew, Fish Scaler, Magnifying Glass, Nail File, Scissors
Color: Red
Vintage: No
Number of Blades: Multiple
Opening Mechanism: Manual
Handle Material: ABS Cellidor
Brand: Victorinox

---