Victorinox Swiss Army Swiss Tool Spirit With Stainless Handle Knife Mint In Box+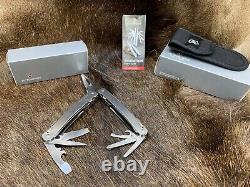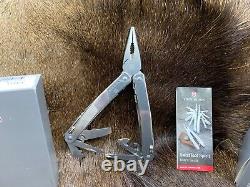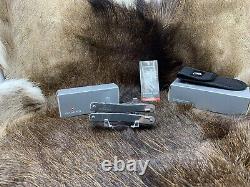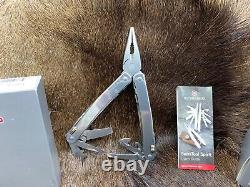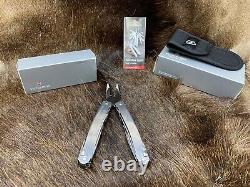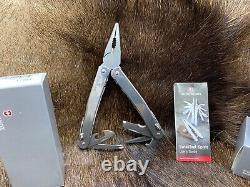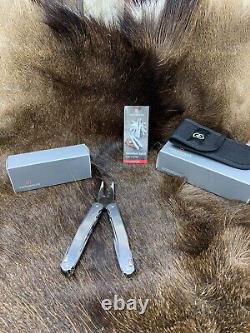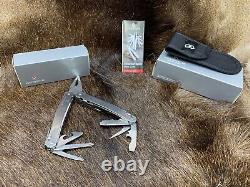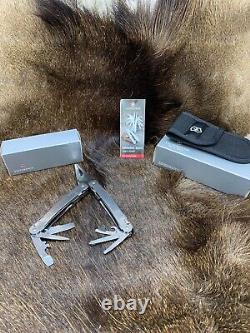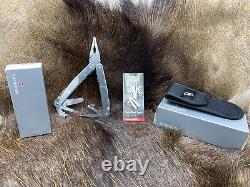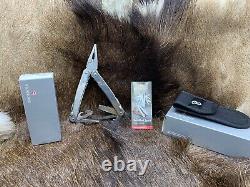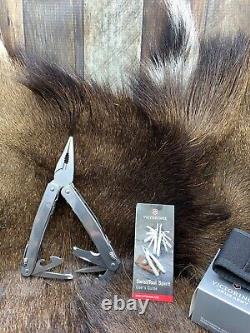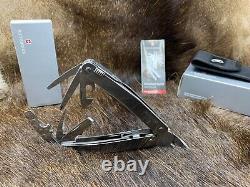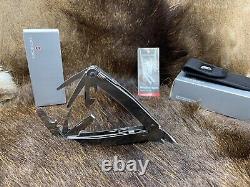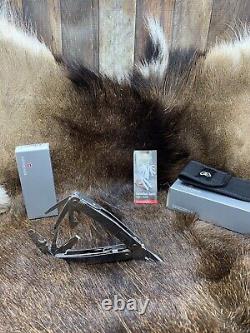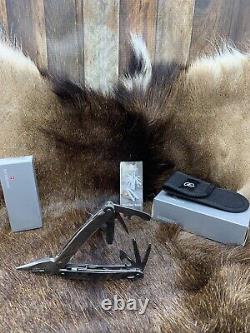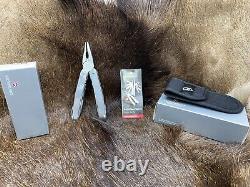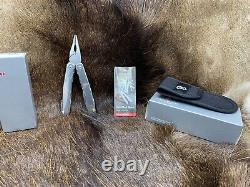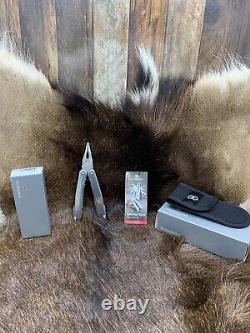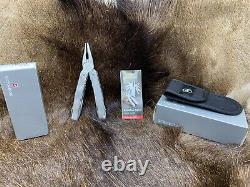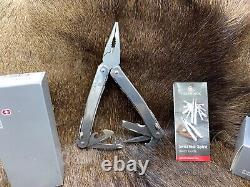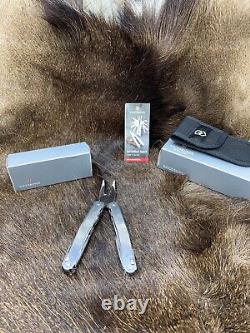 Victorinox Swiss Army Swiss Tool Spirit Knife With Red Handles With Leather Pouch Mint In Box. From the renowned company that created the Swiss Army knife a century ago comes the Swiss Army Huntsman pocketknife, the workhorse in the Victorinox family. You will receive this Swiss tool and sheath.
A CUT ABOVE THE REST: Compact, agile and ready to face any adventure head-on. Our range of Swisstools continue to be an icon of utility and smart design.
These are the most robust tools currently available in the Victorinox range. DURABLE CONSTRUCTION: Renown Swiss made stainless steel construction. Each tool is accessible from the outside and locks into place with its own spring and lock for ultimate precision, comfort, convenience and safety. COMPACT CARRY: Bring this tool with you on your daily adventures without sacrificing space.
It makes a great gift for any occasion or stocking stuffer for Christmas. FIT FOR ALL TASKS: The idea is simple: always be prepared.
The Swisstool is a multi-tool with an impressive list of features, ensuring you are ready for anything. Extremely handy, functional and compact, it is a complete toolbox in a single tool. TRUSTED QUALITY: Made in Switzerland; Victorinox provides a lifetime guarantee against defects in material and workmanship. Making a lifetime commitment has never been so easy.
PRODUCT DETAILS: Swiss made multi-tool with 24 tools and lockable blade. Height: 0.7 in, Length: 4.1 in. FUNCTIONS: needle-nosed pliers, wire cutter for thin and soft wire up to 40 HRC, hard wire cutter, large blade, Phillips screwdriver 1/2, reamer/punch, multipurpose hook, can opener, screwdriver 3 mm, bottle opener, screwdriver 6 mm, crate opener, wire bender, scissors, wood saw, metal saw, metal file, screwdriver 2 mm, chisel 7 mm, cable cover longitudinal cutter, cable cover crossways cutter, wire stripper and scraper, lanyard hole, coupling for corkscrew. In 1884, Master Cutler Karl Elsener started his cutlery factory in the small village of Ibach, Switzerland. In 1897, he crafted the Victorinox Original Swiss Army Knife.
Since that time, the Elsener family has continued to craft tools in the Victorinox tradition of in genius design, durability, and quality. This is why all Victorinox multi-tools, made of first class stainless steel, are guaranteed a lifetime against defects in material and workmanship. Remember, if it doesn't say Victorinox, it's not the Original Swiss Army Knife. Contact: We value your feedback.
You are also responsible for understand the Custom Laws in your country and by purchasing this item you are in compliance with all of your laws. We will not sell to minors. Privacy Policy: No personal information will be shared with any person or company outside of Pratt's Collectible Cutlery.
Thank you very much for viewing one of our knives. All handle materials used for knife handles are manufactured and they are not from an endangered species. The knife handles are derived from dropped deer antlers.

---