Wenger Serrated Highlander Genuine Swiss Army Knife & Travel Pack First Aid Kit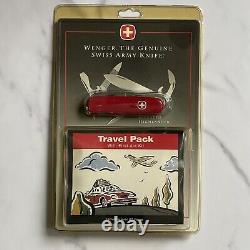 Wenger Trailblazer Swiss Army Knife in sealed plastic shell/blister. Packaging may have tiny cracks, bent, discoloration, fragility blemishes or other imperfections due to its age. Includes a Travel Pack that due to age of this packet, items such as iodine prep pads, Antiseptic pads, wash up towelettes, sting relief pads, sunblock and bandages are expired due to age of this set.
Great item for Wenger knives collection, to display and keep it sealed.

---